Like listening to the audio? You can now get The Book of Pook Audiobook - over 14 hours of human narration! The quality is FAR superior to the machine generated TTS on this site, so if you're going to spend hours listeing to the content - get the nice human version!
Limited period offer: Get the DJ Bible free on all purchases! Click here to get it now!
---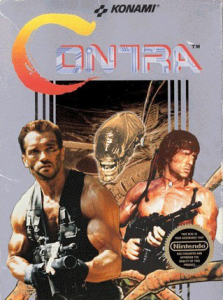 One must give due when a manly entertainment form comes out. It could be a movie (Gladiator, 300, etc.) or music. But there haven't been too many manly games anymore filled with feminized heroes and heroines who dress in a bikini but carry giant guns/swords.
If you don't know about Contra, give it a read here.
One must give a nod to Contra 4 coming out. Just look at the website, and you will find digitized testosterone. Everywhere you click, you get an explosion with chip metal going on in the background. No soap operas. No 'love stories' in the game.
THIS. IS. CONTRA!!!